Tips & Resources
Look for crib mattresses stuffed with cotton, polyester, or wool instead of foam. Check out Getting Ready for Baby for some safer brands.
Some car seats can contain brominated flame-retardants, PVC, or other heavy metals. Check out the best and worst brands of car seats.
WVE Expert: Jessica Iclisoy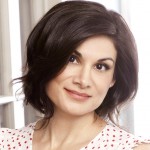 Jessica is the founder and developer of
California Baby
, the nation's leader in premium skincare for babies and kids and trusted since 1995. Her curiosity, passion and pioneering spirit turned her kitchen experiments into a thriving business that created a niche in the baby organic market.
Jessica's Picks
California Baby Super Sensitive SPF30 sunscreen: My everyday favorite, and a medicine cabinet must-have to shield mom and baby from UVA (which are particularly harmful) and UVB rays. Our green formulation is based on a mineral sunscreen to give mommy a safe and worry-free water resistant (80 minutes!) alternative to toxic sunscreen chemicals.
Oeuf Crib: I love eco-friendly items that have a chic and stylish design esthetic, and the Ouef crib fits the bill in spades. Not only are the materials non-toxic, the design safe and practical, it even converts into a toddler bed once baby starts sprouting. I love when a product is designed smart and built to last.
Lifefactory Bottles: Say hello to a fantastic alternative to plastic baby bottles. These reusable glass bottles are free of toxins such as BPA and phthalates, thermal shock resistant and cutely decorated with a colorful silicone sleeve for baby's little hands to easily grip. The clincher for me is that glass does not impart off flavors the way plastic does, which means you aren't tasting yesterday's kale juice in today's chia water.
Little Green Pouch: BPA and phthalate free. Use your Vitamix (if you don't have one, get one— you will be delighted with all the healthy concoctions you can make with it!) and fill it with your  favorite puree recipe and give to baby to enjoy. Reusable, travel size and super convenient for mommy. I've started using them for myself as a way to travel with a healthy snack that slips into my purse and is called upon when my tummy starts to growl.
Stockmar Wax Crayons: Scribbling with Stockmar's wax crayons are a better alternative to conventional crayons for your child's health and the environment. Made with beeswax and plant based waxes—deposits a rich color while allowing for transparent layering. Plus, they look so cool that they will inspire the artist in us all.
Green Toys:  I cringe at the amount of plastic that is produced for toys and then just gets tossed after a few uses. This is why I absolutely love Green Toys. Not only do they offer a great selection of classic toys for children of all ages, all products are made of 100% recycled materials. I have personally met the founders and feel so good that they use their company to be part of the solution instead of adding to the problem.
Tegu Magnetic Wooden Blocks: Unlock the mind and inspire creative experiences! These wooden blocks will push and pull your baby's imagination. Beautifully crafted and intellectually stimulating for baby and kids. These blocks have a hidden magnet inside that seem to magically snap together. Tegu does not use endangered wood, yet they have a 'give-back' program to help with reforestation and sustainability.
Orbit Stroller: Certainly not your typical stroller. Orbit strollers are designed to easily collapse and set up, rotate 360 and recline. This is a stylish, new age stroller that's free of dangerous flame retardants and PVC. The first company that has put resources to finding alternatives to the toxic chemicals baby is exposed to in the everyday business of toting them around.
Ecojot: Made from post consumer waste, which deserves a big bravo! But what I really love are their cute and surprising cover designs. Ecojot also donates products to children in need around the world.
Aden & Anais Swaddle: Durable and gentle, this swaddle will keep baby comfortable night and day. Sewn up with certified organic cotton, baby will only be wrapped up in the best threads meant for their delicate skin. I love the light texture and the beautiful way they drape.
Advertising Partners
WVE is honored to have the support of the following companies this year that helped bring this guide to life and keep it a free resource for everyone, through their generous advertising support.
Title Partner

Featured Partners