May Inspirational Woman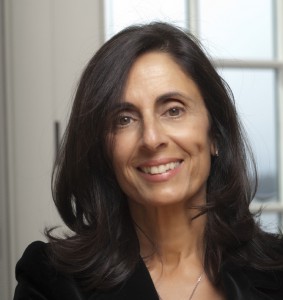 Shelia Hollender has been an incredibly influential figure in the women's environmental health movement, and we're proud to feature her as our May Inspirational Woman. In addition to being an amazing advocate for Women's Voices for the Earth, Sheila has had an incredible career, starting with the founding of Seventh Generation with her husband Jeffrey Hollender. She helped to innovate and launch the company's feminine care line of products, which means that Seventh Generation is one of the only companies that's a member of both of our No Secrets groups, for both cleaning products AND feminine care! She also sits on the board of the Breast Cancer Fund, plus she's on the advisory boards of Planned Parenthood Leadership Council and Practically Green.
As if this isn't enough, Sheila just launched her newest project, Sustain Condoms, the world's first sustainable fair-trade condom company, with her husband and daughter.
Okay, we know it's obvious, so we'll just say it: We have a girl-crush on Sheila Hollender. Want to know more? Read on for a Q&A with this environmental health shero!
When did the issue of the intersection between toxic chemicals and women's health first appear on your radar?
I first started thinking about this issue about 25 years ago when I co-founded Seventh Generation. Our mission was to create cleaning and personal care products that were free of all harmful chemicals. Environmental toxins had been linked to the rise in cancer and we decided to expose the use of toxic chemicals in everyday products
What do you wish that every woman knew about threats to women's health from environmental exposure in everyday life?
I personally believe that the prevalent and daily use of cosmetics, personal care products and feminine care products are a major hazard for women. One in 3 women will be diagnosed with cancer during their lifetime. It would be a great first step for women to become aware of and avoid daily products that contain hazardous ingredients. There is a great website, Campaign for Safe Cosmetics, which will guide women in their choices.
Do you have any advice for women who are thinking about making the switch from conventional to nontoxic products?
There are so many "green" alternatives out there today that the hard choice is which one to reach for. I caution all women to read labels before purchasing products, since some so called "natural" products contain some very unnatural substances. Another good source for choosing green alternatives is www.goodguide.com.
Out of all of the ways that you're raising your voice for women's health right now, what would you say is your current passion?
I have two very strong passions. The first is my involvement with the Breast Cancer Fund, whose mission is to eliminate environmental toxins that increase the chances of breast cancer diagnosis. It is a scientific and advocacy organization which focused on the "prevention" of breast cancer.
Second, I focus on the empowerment of women and girls worldwide by working with organizations to provide women and girls with feminine care products so that they can stay in school and at work during the time they are menstruating – Sustainable Health Enterprises – and with the issue of educating girls on the use of condoms in order to limit their exposure to HIV/STDS and to allow them to make the decisions related to family planning. These are the very basic tools of empowerment.
We recently launched our Detox the Box campaign, and are grateful to you for paving the way to talk about touchy issues like toxins in tampons. Do you think that the public conversation about women's private health has evolved at all over the last several years?
About ten years ago, I learned that tampons contain chemicals and ingredients such as chlorinated compounds, rayon, dyes, and fragrances. I knew that I had to educate women on this issue and have spent a lot of time on social media getting the point across. I do believe that the conversation about women's private health has been coming out into the open – mainly due to the fact that women want to remove toxins from all parts of their lives. Social media has allowed the conversation to explode!
What led you to the creation of your latest project, Sustain Condoms, the world's first sustainable fair-trade condom company?
Following the introduction of organic cotton tampons and natural pads, it was time to focus on another product that women use intimately. After discovering that only 19% of single women in the US actually use condoms, we set out to figure out why – we found that a major issue was the uncomfortable condom purchasing experience and the stigma associated with carrying condoms.
The rates of STIs have been on the rise and the best preventative measure is the use of condoms.  We focused on taking the harmful chemicals out of the manufacturing process and worked with a certified fair trade rubber plantation to bring the best product to women.