November Inspirational Woman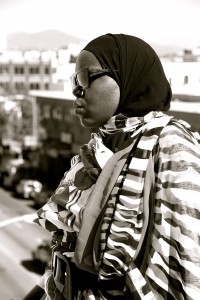 Safiyyah Edley is the director of Naturally Dezign'd: Natural Hair & Fashion Runway Show Expo and owner of the Luv Mi Kinks salon.
Safiyyah has spoken about salon worker health at the Annual National Environmental Justice Advisory Council meeting, with the Salon Interagency Working Group, and with Congressional members to advocate for the federal Safe Cosmetics Act. She's traveling to D.C. on November 10 for the second Healthy Salon Days of Action to educate policymakers and secure commitments from them to advance salon worker and consumer health and safety.
Tell us about how you got started working in salons. What do you love about it?
My love & passion for the salon and cosmetology business was birthed at a very young age. I've been in the business for over 20+ years, and have dedicated my passion to the natural hair genre for the past 14 years. I've been in salons since I was a kid. At the age of 5, I helped my aunt & mom lay the laminated floors in my aunt's salon. I would always be in her salon getting my hair done or sweeping up the hair from the clients.
What I value about working in a salon is having a centralized place that's safe for my clients to come relax and be pleasantly treated with my services.
You've mentioned the injustice of having to choose between doing what you love and your health. Can you tell us more about what you've experienced in working with toxic salon products?
I've recently been diagnosed with Uterine Fibroid tumors, which I found out about after miscarrying my baby. Some research has been made linking Uterine Fibroid tumors with the chemical being exposed in hair relaxers. My aunt, whose salon I grew up in, was diagnosed with breast cancer 20+ years after opening her first salon.
I have a client who can't use cosmetics with parabens in them because they cause her to have migraines. She was given her first relaxer at the age of 3, and today she can't bear children due to reproductive problems. I have another client whose mom was a single mother of 8 in the 70's, and she was working in a salon for $2 or $3 an hour for years. She would come home from inhaling harmful fumes all day with excruciating migraines so bad she would have her kids pull her hair around her temple area to relieve the pain. Another client spoke about his aunt who was diagnosed with cancer as well and she was a salon worker & owner for ten years.
What are some of the challenges of trying to work in this industry, where companies don't have to label ingredients and products can contain toxic chemicals?

Working in a salon with other stylist who don't share our same ideology on haircare can be challenging, because there may be products or services that you deem unhealthy but your coworker doesn't
This can also be hard because some of these manufacturing companies lie on their labels, like labeling everything "natural" when it really isn't or hiding the truth about some of the ingredients used to make their products. Also, it's truly harder to find healthier options when it comes to some products, so it's hard to get around it. So I'm especially concerned for our consumers the people who pay us and depend on us for a healthy service.
The major challenge is compromising your health in order to do what you love and also to take care of your family.
What makes you passionate about going to Washington D.C. for a second time to advocate for salon worker health and safety?
Being a part of Salon Action Week of Action in 2012 and now in 2014 is the start of me helping to improve working conditions for everyone in this industry. I'm now passionate about keeping people aware that there is a silent killer that we are all exposed to and it could be in your medicine cabinets right now. Working with Black Women for Wellness and the other National Healthy Nail and Beauty Salon Alliance groups on this issue has made me more conscious and verbal within my own community.
My vision for a healthy future is for all salons to be properly ventilated, and make this a state law for salons. I would like to see honest manufacturing companies that don't lie on labels. I would love to see more toxins taken off of ingredient lists nationally, and ALL cosmetic and salon products regulated by our FDA and other government agencies.