September Inspirational Woman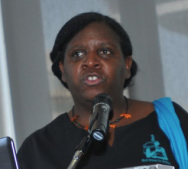 Janette is the executive director of Black Women for Wellness, which is committed to healing, educating, and supporting Black women. She is a community professional at Charles Drew University, where she teaches public health professionals, doctors, and nurses about reproductive justice and the impact of health policies on minority groups.  Janette is also a member of the African American Studies Community Advisory Committee at UCLA. Janette is also involved in the Women's Health Collaborative, California Pan Ethnic Health Network, the African American Task Force and the Leadership Development in Interethnic Relationships Advisory Council.
We sat down with Janette to learn more about her passions and what makes her a heroine in the movement.
How did you first get involved in reproductive justice work?

My family inspired me to work for social justice…my dad was one of the first African American members of the International Brotherhood of Electrical Workers (IBEW), and I used to eavesdrop on him and my uncle as they shared stories, problems and solutions. My mom was the only African American and woman manager in the Social Security Administration. Between the two of them I had no choice but to be aware and conscious of the role race and gender plays in our lives, and because of them I learned to speak up and speak out. Indeed, training as a social justice advocated started early. So as an activist, when my pregnancy became a reason to advocate, I was well prepared…and that is where my involvement with reproductive justice started: it was personal.
Can you talk a little bit about the disproportionately high health issues that Black women are facing?

Rather than give you facts let me share a story here. Black Women for Wellness has a program called Sisters @ Eight, each second Friday of the month, where we cull together a community forum for the health care advocates, professionals, grassroots leadership, members and providers working on health in our community. On any given Friday, from 50 – 75 vast majority women attend to share issues and resources on the health disparity facing Black women.
One Friday, our topic turned to Black infant mortality. Every single woman in the room had lost a child. Every single woman! For me that was astounding. Many women in the room had not shared this information with anyone or outside their immediate families. Yet it is a community problem as illustrated by the commonality of the experience. The local hospitals did not have any policies addressing this issue, there were no local support groups for Black women grieving, and the Health department solutions were weak and inadequate. The Department of Mental Health Services had yet to acknowledge this was an issue.
In the African American community, both maternal and infant death are disproportionately high, and these are reproductive justice issues that need address. We could go on to mention the rates of new HIV infections, the numbers surrounding sexually transmitted infections, access to birth control and family planning, intimate partner violence, under and unemployment, exposure to toxic chemicals, all our health disparities for African American women impacting reproductive health as well health disparity across the board. But for me, hearing that every single woman in that room of about 75 share the sorrow of losing a child was heart breaking.
Black Women for Wellness' annual reproductive justice conference this September is titled "Get Smart B4Y Get Sexy – making smart sexy and sex smart." Who should attend this conference, and what should they expect to get out of it? (Other than knowledge and inspiration, of course!)

BWW is calling all hands on deck with shifting cultural norms in addressing this health disparity. BWW is inviting local, state, and national health care professionals, leaders, advocates, experts, and community members concerned, working, and/or curious about the reproductive health and well-being of Black women & girls.
Get Smart B4U Get Sexy will present recent data regarding the reproductive health status of Black women and girls and how it compares to women in other communities.
Get Smart B4U Get Sexy will provide an overview of contraceptive options that many Black women and girls may not be familiar with to provide the vehicle for them to direct their reproductive life plan and therefore control their destiny.
Get Smart B4U Get Sexy will feature HIV/AIDS educators and researchers sharing updates, innovations and insights on how HIV/AIDS impacts Black women & girls.
Our network of reproductive justice advocates are excited to share work, resources and collaborate across silos with the Get Smart B4U Get Sexy campaign
Bruised by recent Supreme Court decisions impacting low income women & girls, advocates are ready to strategize on building an inclusive movement that acknowledges the strengths and value Black women bring to reproductive health and rights movements – Get Smart will organize African American women & girls to facilitate inclusion
BWW is delighted to offer our University of Black women featuring at minimum 30 books by and about Black women with conversation lead by local authors on the importance of our lives having a narrative from our perspective.
You're part of so many projects and working to improve Black women's health through so many organizations and networks right now—it's incredibly inspiring. Can you share what keeps you going strong in activism?

The women who work beside me, the opportunity for travel and seeing the world through different eyes, and the desire to make the world a better place than where I found it are my driving energies. Once I had a child, it was destined that I contribute to making the world a better place, and I can't do that sitting at home. Travel is my joy, having the opportunity to see the world, the situation as it is and contribute to connecting the worker bees is fabulous.
Do you have any advice for women who are thinking about getting involved in the reproductive justice or women's health movements?
3 items of advice:
Cultivate and keep friends who will ground you, listen to you, laugh with you and lift your spirit.
Find a mentor to help guide and direct you around the landmines, bring you inside to the table, and protect you from the dangers. Mentors are crucial.
Balance – hard to find and maintain, but it will keep you in the work much longer, refresh before necessary and ensure you have perspective when the passion is consuming.