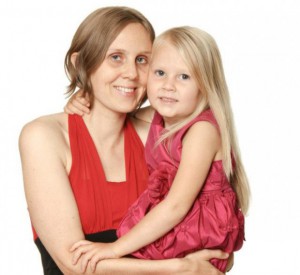 April Inspirational Woman
Before my daughter was born, I was luckily very aware of toxic chemicals in household and personal care products. My mom had taught me how to be a conscious consumer, and to be very aware of what products I purchased to be sure they were not toxic.
When my husband and I decided to start a family, we were very proud of our lifestyle choices.. to eat organic foods, to use non-toxic personal care and laundry products. But after Sophie was born, we were surprised to find out that she had chemical sensitivities. If a friend, family member or neighbor visited and had perfume on, our daughter would break out in hives.
As she got older, the severity and intensity of the reaction increased. Despite the fact that her environment at home was safe, it only took one exposure to artificial fragrances to make her sick. For example, Sophie would react to even the residue of artificially scented laundry detergent on someone's clothes…especially if that person used dryer sheets.
Sophie has been hospitalized several times because of exposure to artificial fragrances. When exposed, she experiences reactive airway. Inflammation begins in her respiratory tract, leading to difficulty breathing.
As I watched my daughter struggling to breathe in the hospital, hooked up to oxygen and an IV, I realized that silence is not an option. I knew that the only way to make a change was to be the change, to be a part of the movement to remove toxic chemicals from our lives.
I believe that all companies should be required to be very transparent in labeling their products, so that consumers are aware of what exactly they are purchasing. Every mom, every parent, every grandparent, deserves the right to know what is in the products that they are buying for their families.
Being trained as a spokeswoman for WVE'S Secret Scents campaign made me realize just how many people out there are dealing with similar situations as my family. My heart goes out to them, as we all begin this crucial step towards healthier air, healthier products and healthier lives for generations to come. We are building a foundation for the future as we move forward to demand that companies be honest in their labeling practices, and ultimately remove harmful chemicals from their products.
Heather was brave enough to tell her story in the Huffington Post – read the article here.