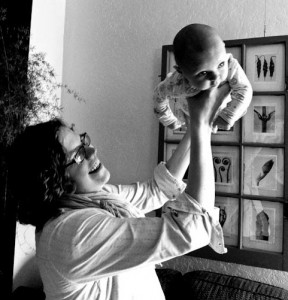 I've been living with Type I diabetes for 26 years, and it is the reason I believe Women's Voices for the Earth (WVE) does some of the most critical work in our world today. I have supported them for over 4 years, and I hope that, after reading my story, you'll join me in doing the same.
We often assume that conditions like mine come from our parents' genes. My mom had an idyllic childhood spent riding horses and adventuring outside, giving her a love of nature and an admirable conservation ethic. As her daughter, she passed these passions on to me.
 Unfortunately, she also passed on a toxic legacy.
When my mom was pregnant, she participated in an infant feeding study to test placentas and breast milk for traces of PCB's and DDE – a metabolite of DDT. Our bodies absorb these nasty chemicals at a faster rate than we can dispose of them (bioaccumulation), and the concentration increases over time because they don't break down (biomagnification). What's worse, they store in fatty tissues, which for women – with a higher percentage of fat than men – is a huge and scary issue. When my mom was a girl, no one knew the potential health costs, let alone that they could be passed on to the next generation.
My mother's breast milk contained the highest level of DDT of the 1,000 participants in the study.
Certain chemicals stored in a woman's body could be passed to her child. This showed up again when I was 8 years old: the year I was diagnosed with Type I diabetes. For a long time, I assumed my condition came from my parent's genes. DDT is a known endocrine disruptor, and diabetes is an endocrine system disease. I cannot blame this fate on genetics.
Over the years, I've learned to live with Type I diabetes, but not a day goes by that I don't think about what is going on inside my body that I don't know about. What other chemicals are mixing inside me — from the food I eat to the lotion I use each morning? I don't want to live with worry, so I began to research and found WVE – and truly, an ally for life.
Women's Voices for the Earth is a uniquely savvy organization focusing specifically on the impacts of toxic chemicals to women's health.
They work tirelessly – so that we don't have to – towards making sure that companies are not allowed to put unregulated, untested toxic chemicals in the products we use every day.
Surprisingly, our reality today is not so different to that of my mother's. EVERY DAY we are exposed to a multitude of the 80,000+ chemicals registered for use in the U.S. Of those, our government has required testing on just ONE QUARTER OF 1%. Our reality is that we know very little about how most of the chemicals available in the products we purchase every day at the store will impact us.
What's more, with many studies now showing an alarming rise in not just Type I diabetes, but also other autoimmune disesases, breast cancer, and autism – all of which are potentially linked to chemical exposure – it is NOT okay to continue with the status quo.
The stakes are unacceptably high. At a very basic level, environmental chemical exposure is a human rights issue.
 I believe EVERYONE has the right to live in a healthy world, where we know what is going into our bodies, and where we can demand justice when this is not the case.
Women's Voices for the Earth believes in this vision.
Their grassroots efforts and engaging campaigns give me – a woman who is not a scientist or an activist – a way to do something BIG about this seemingly overwhelming problem. WVE opens the door for you and me to be the heroes.
In the last year alone, my activism and financial support of WVE led to major victories such as:
An historic vote on chemical safety – the first in 36 years – successfully passing the Safe Chemicals Act (a bill to evaluate chemical safety before they are put in products) in a Senate committee vote;
Securing several new co-sponsors for the Safe Cosmetics Act as a result of the Healthy Salon Week of Action in D.C., which brought salon workers & owners, advocates, and researchers together to call on lawmakers to ensure that chemicals used in cosmetics and salon products are safe;
The California Superior Court ordering the current TOXIC formula of Brazilian Blowout off the market, by which they have 30 days to reformulate to remove the formaldehyde that is not to code with California air quality standards; and,
Convincing one of the largest cosmetic companies in the world, Johnson & Johnson (makers of Aveeno, Neutrogena, Clean & Clear, and Johnson's Baby Shampoo, to name a few) to phase out chemicals that can cause cancer and harm health from all of its products in 57 countries.
These are major victories for us all, and by us all. I give to WVE to ensure that this critical work continues – because without our passion, our voices and our financial support, WVE cannot continue to do its job.
I now have my own baby girl.
This year, I donate to WVE for her.
Because of her, this has all been on my mind a lot. While I can't change the fact that the average woman has 200 hazardous industrial chemicals in her body, I know that WVE is working to educate me about potential hazards, how to avoid them, and is fighting large corporations to keep the dirtiest chemicals off the market. WVE is helping me stop history from repeating itself.
We are all affected by toxic chemicals – now is the time to do something about it. Perhaps you'll give to lower the rates of breast cancer, or donate in the name of a friend who just miscarried. Give for the millions in this world – your neighbor, your colleague, any woman – who are all exposed to toxic chemicals, no matter what their personal product choices are. Because the truth is, we can't shop our way out of this problem.
Now is our chance to be the hero – for our families, for our daughters and for our future generations.
Please join me in donating to WVE today!
We must band together and call for a new world.  I can see it, and it's beautiful.