March Inspirational Woman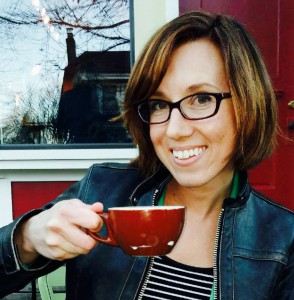 Toxic chemicals, gay rights, and ultra-fast broadband.  At first glance, it may seem like an odd pairing of passions, but not so for Caitlin Copple, the first openly LGBT city councilor in Montana's second largest city, Missoula, population 68,000. At 30, she's also one of the youngest members of the council and has drawn national attention for her groundbreaking race from Victory Fund, Human Rights Campaign, and Huffington Post. She chairs the Parks & Conservation Committee, which oversees the implementation of the City's Climate Action Plan, and also works closely with the state's tech start-up community.
Full disclosure: Caitlin also happens to be Women's Voices for the Earth's communications consultant. But she did not write this blog. Okay, she edited it a bit.
How did you first hear about WVE?
I think it was through Montana Women Vote, a coalition of women's organization dedicated to building the political power of low-income women. I also am friends with WVE's founder, Bryony Schwan, as well as Jen Euell, who founded an environmentally-oriented girls leadership program at WVE that later moved to YWCA Missoula, where I used to work.
What inspired you to get involved in local politics?
I've always been interested advocating for issues that matter to me, but never saw myself as a candidate (which is how a lot of women feel, I think). I was unhappy with the incumbent, who won an award from the local Tea Party and voted against Montana's first LGBT-inclusive non-discrimination ordinance, which I helped pass as a volunteer for the Montana Human Rights Network. When no one stepped up to file to challenge her record, I decided I couldn't stand by and let her walk unopposed to another term. I decided I'd at least make her work for it! Given my background in fundraising and marketing, campaigning came someone naturally – governing is much harder because there are so many sides to each issue and it's really personal for the people whose lives or property are affected by our decisions.
What advice do you have for other women who might run?
Go for it! It takes a lot of time and pays next to nothing (here anyway), but you learn a lot. I never thought alley paving or accessory dwelling units would be interesting to me, let alone fiber optic broadband! There are lots of great resources for progressive women out there, including Emily's List and Wellstone. Having a plan, and a campaign manager who will keep you accountable is really crucial. My campaign worked because I knocked more than 5,000 doors and wasn't afraid to ask my friends (and strangers) for money in order to defeat someone who didn't share our values.
What's your proudest moment so far as a politician?
Probably when I convinced the 70-something conservative Christian councilmember who sat next to me to vote for my Domestic Partnership Registry. It was a key part of getting Missoula 100% on the Municipal Equality Index of the HRC, which was really important to me because no other cities under 100,000 people in states with really anti-gay laws have achieved that. While the registry doesn't offer couples legal protections, it's a step toward recognizing the dignity of same-sex relationships and can help in emergency situations or with getting domestic partnership insurance with some employers.  My colleague told me his relationship with me really changed his views on the LGBT community and the issue of marriage.