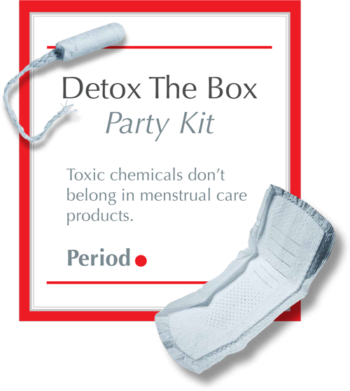 Thank you for hosting a Detox the Box party!
Below is everything you need to make your party a success.
By throwing a Detox the Box party you can help to spark dialogue between friends and de-stigmatize the topic of menstrual and vaginal health. The kit offers plenty of tips to help you take action and ways you can start to make changes in your home, community, and beyond to ensure period and personal care products are safe and accessible for all. Now that's worth a party!!
Bookmark this page so you don't have to log in again to find it!
Download the Full Detox the Box Party Kit
Extras
We've put together this fun playlist on Spotify to get the party started! You can play it right from the app or website if you are already a Spotify member or sign up (it's free).
Resources
News Articles
Watch and Share Videos
Feminine "Cleansing" Products
Menstrual Products
Sign-up Form: