Tips & Resources
Avoid inexpensive metal jewelry, often contaminated with lead or cadmium. Check out Healthy Stuff and the California DTSC for examples of problem jewelry to stay away from.
Look around local farmers' markets and shops for handmade toys.
Featured Expert: Katy Farber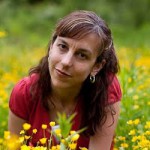 Katy Farber is a teacher, author, and founder of the blog, Non-Toxic Kids. She is also the author of two books about education, Why Great Teachers Quit and How We Might Stop the Exodus, and Change the World with Service Learning. Katy's writing has appeared in MomsRising, Moms Clean Air Force, Educational Leadership, CNN's School of Thought Blog, Problogger, Fox News opinion, and many other outlets.
Katy's Picks
Citiblocks, or Keva blocks. These are simple wooden planks for creative building of all types; no plastic or commercially themed characters here. They foster creativity and spacial reasoning and will biodegrade someday— unlike Legos!
Marble Runs.  I recommend buying a marble run made out of wood with tunnels and tracks to avoid the environmental and health problems associated with plastic. Children can learn early engineering and spacial skills, as well as about cause and effect and energy.
Yoga for your Brain. Totally Tangled Cards is a card set that teaches various repeating patterns and designs for drawing. Created to be relaxing and fun, this is a great activity when kids need to reframe, relax or take a break from something.
Sleeping Queens. What a simple and fun card game! Created by a 7 year old girl, this game develops memory and early math skills. This is great gift for kids ages 5 and above.
Wreck this Journal. With this creative take on a journal, the author encourages the reader to "wreck" the journal by interacting with it directly and observing the world around them. And by interacting, I mean coloring, ripping, throwing, poking, gluing, scratching– kids will love the permission to destroy and recreate.
Pretend and Play School Set. Many kids love to play pretend school. One toy that has inspired much of this play is called the Pretend and Play School Set, which comes with a mini-white board, a calendar, markers and a school shaped tri-fold. You can make your own pretend school kit in any box or bin. Just add school supplies, a small white board, a map and calendar, and other various items.
A Full Dress Up Bin. For hours and hours of creative play, stock a big trunk or tub with as many dress up items as you can find, from family members, the thrift store, or your own collection. Wands, hats, capes, scarves, dresses, uniforms, everything you can think of that will fit. Grandparents often love amassing these for grandkids!
A Bin of Music Instruments. Find some wooden drums, maracas, a xylophone, a ukulele, and other traditional wooden instruments to add to a bin for your child. You can find these at used toy stores, online, or at a favorite toy store.
Yoga ball or large bouncy ball: All kids need to bounce! A simple yoga ball can provide much needed movement for around house. During our long winters, indoor movement is essential.
Classic board games: Games such a Life, Boggle, Scrabble, Sorry and Taboo are loads of fun for family game nights. These each have a kid version, but the adult ones can be modified if they are all you can find.
Bean bag. A high quality bean bag, puffy and squishy, can provide many things. It can be a creative play toy, transforming into a mountain, a turtle's back, or anything else your child can imagine. It is also the perfect reading spot and it can be dragged into various reading nooks that kids love.
Advertising Partners
WVE is honored to have the support of the following companies this year that helped bring this guide to life and keep it a free resource for everyone, through their generous advertising support.
Featured Partners
Partners