Tips & Resources
Avoid exposure to cancer-causing PFOA from Teflon and other non-stick cookware by phasing them out of your home and purchasing stainless steel or cast iron.
Choose food labeled "organic," "pesticide-free," or "hormone-free" if possible, and shop at your local farmers' market when you can. Many local farmers grow organically, even though they may not be certified.
Featured Expert: Carla Sanchez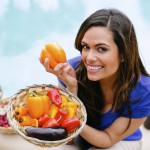 Carla Sánchez is a certified nutrition and fitness coach as well as a producer, director, and TV host for organiclifestyle.tv, a bilingual show and blog about living a healthy, organic, and fit lifestyle, with an emphasis on whole-foods nutrition. Carla is our food expert and she focuses on natural approaches and organic recipes to be healthy and fit the way nature intended.
Carla's Picks
Coconut oil from Tropical Traditions. Organic, cold-pressed coconut oil has so many wonderful and healthy uses. Researchers have shown many health benefits for coconut oil, such as brain boosting, fat burning, and infection fighting, just to name a few. Plus, you can use it for cooking.
Chia seeds. These tiny seeds are rich in fiber, alpha-linolenic acid, and minerals. In a recent study, researchers found that consuming chia seeds can reduce systolic blood pressure, C-reactive proteins, and vonWillebrand factor—all risk factors for heart disease.
Hemp seeds. Hemp Seeds are one of the most nutritionally complete foods in the world: a complete protein, high in fiber, omegas, vitamins, and minerals. Per gram, hemp has more digestable protein than soy, more digestable omegas than flax, more digestable fiber than kale, and it's low in saturated fat, cholesterol, and carbs. Consumption of hemp seeds is good for brain function, immune function, weight loss, inflamation, and it reduces the risk of heart disease and cancer.
Biotrust protein powder. I love this protein poder because it is hormone-free (no rBGH or rBST), contains no artificial colors, sweeteners or flavors (it's sweetened with stevia), and it's low carb: only 4g of net carbs per serving.
Quinoa.
I love quinoa, because it's another superfood, and a perfect replacement for your rice dishes. Quinoa is gluten free, it's low in cholesterol and sodium, it's higher in protein than rice and in one serving quinoa fills 48% of our magnesium needs.
| | |
| --- | --- |
| | Quinoa healthy cookie-dough bites |
| | Tangerine & avocado quinoa recipe |
| | Vitamix blender. My life in the kitchen can't exist without this high-speed food processor. I use it for my breakfast smoothies, to make many of my healthy recipes and sauces, and even to grind chicken and fish. If you are serious about healthy living and cooking, this item is a must have in your kitchen. |
| | Water infuser pitcher. Ditch the sodas! If you want to turn plain water into an amazing healthy drink, use this water-infuser pitcher. I love it because it's a great way to change up your water intake and a healthier replacement for sugary drinks. |
| | Oceans Alive 2.0. I love Oceans Alive because it is the superfood of the future. It has the power to stimulate your body to create trillions of new cells. Every drop of this microscopic, ultra-powerful ocean nutrient contains more than five billion identical cells of energy that feeds your mitochondria like nothing you have ever experienced. |
Advertising Partners
WVE is honored to have the support of the following companies this year that helped bring this guide to life and keep it a free resource for everyone, through their generous advertising support.
Featured Partners
Partners