Tips & Resources
Because many companies don't disclose ingredients, it can be hard to know what's safe and what's not. You can get around this by making your own gifts with safe, non-toxic ingredients.
Create a gift basket of homemade cleaning & personal products using WVE's recipes! Get creative with old jars, ribbon and other scrapbooking supplies for a super cute (and practical) gift!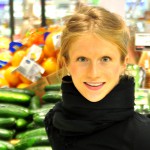 Featured Expert: Amie Valpone
Amie Valpone, founder of TheHealthyApple.com, healed herself from Lyme Disease, PCOS, Hypothyroidism, Leaky Gut & Heavy Metals; on her website, she shares her story how clean eating and detox saved her life. Amie cooks for a variety of clients including celebrities; curing in the kitchen using organic, anti-inflammatory recipes and meal plans.
Amie's Picks
(Mix up one of these and wrap it up for a great stocking stuffer or gift!)
Epsom Salt Bath. This is an easy way to detox at the end of a long day. Simply enjoy a warm bath with this recipe and soak for 20-30 minutes for maximum detox benefits.
Non-Toxic Home Cleaners. Once I learned about all the toxins in my cleaning supplies, I started making my own; it's so much easier and cleaner and toxin-free. This has helped my health tremendously!
DIY Kitchen Cleaners. I love to cook and my kitchen can get quite dirty so I use these easy kitchen cleaners to keep my tiny Manhattan kitchen in tip top shape!
Deodorant. Say good bye to aluminum and other toxins in your store bought deodorants and try this homemade option that's toxin-free!
Facial cleansers. This is an easy facial cleanser that will keep your skin glowing all winter long. It's my go-to daily cleanser and so much cheaper than the store bought cleansers that are filled with toxins!
Advertising Partners
WVE is honored to have the support of the following companies this year that helped bring this guide to life and keep it a free resource for everyone, through their generous advertising support.
Featured Partners
Partners