[DISPLAY_ULTIMATE_PLUS]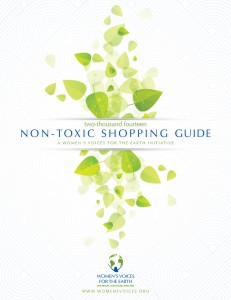 WVE's Non-Toxic Holiday Shopping Guide has everything you need to make responsible choices without compromising the fun and excitement of gift-giving. With this Guide, you can use your economic power to show companies that you demand safer products.
The Guide includes tips and resources for finding safer products, and top non-toxic gift picks from eco-friendly, conscientious women of the WVE community who are experts in their fields.
Non-Toxic Shopping Guide Sections
Clothing & Accessories: Rachel Sarnoff, Mommy Greenest
Personal Care: Elizabeth Wasserman, True Goods
Home Decor: Sarah Valiant, Valiant Design Co.
Food & Cooking: Carla Sanchez, Organic Lifestyle TV
Baby Products: Melinda Olson, Earth Mama Angel Baby
Toys: Katy Farber, Non-Toxic Kids
Fitness: Leah Segedie, Mamavation
Gifts For Your Partner: Karen Lee, drkarenlee.com
DIY Gifts: Amie Valpone, The Healthy Apple
Advertising Partners
WVE is honored to have the support of the following companies this year that helped bring this guide to life and keep it a free resource for everyone, through their generous advertising support.
Featured Partners
Partners