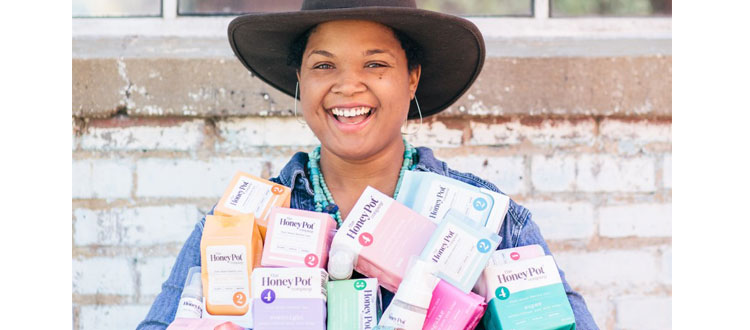 Women-Led: Spotlight on Beatrice Dixon, Founder and CEO of The Honey Pot Company
UPDATE 3/3/2020: We want to send a huge congrats out to Bea on her success at Target! You inspire us!
—————————————————————————–
1. Tell us about The Honey Pot Company and how it all began.
The Honey Pot Company began because I had to resolve an issue I was having with Bacterial Vaginosis. I suffered with bacterial vaginosis for 7 months and was using many of the ingredients that are in The Honey Pot Company feminine wash formula individually to relieve my symptoms. I had an idea one day to put the ingredients together to create a wash for myself, and it worked. By the third day of washing with what I created I had no more discharge, no more odor and was completely relieved. I figured if it could work for me, other women would want to try it too.
2. What's the problem with conventional feminine cleansing products, and why is it important that women have a healthy, non-toxic option?
Conventional products are full of parabens, sulfates, artificial fragrance, artificial foaming agents, isobutene, propylene glycol, stearic acid and beef tallow, to name a few. The crazy thing is that they claim to clean the vagina. Not only do these products not clean the vagina, but they are extremely toxic. One thing women need to understand is that our skin is an organ– our largest, most important organ. Chemicals in products we put on our skin can enter directly into our blood stream without having to go through the liver, so it is important that we use clean skin care made of safer ingredients. Think of it this way– would you swallow isobutene? Would you drink propylene glycol, would you rub stearic acid on your face? No, because they are toxic, and if you were to do any of those things, you would likely become very ill. Using products that have such toxic ingredients leave behind trace amounts of their toxicity in your body that can build up over time and cause major illness, disease and infection. I believe that it's important to only use skin care that you could drink or eat, as we are what we put on our skin just as we are what we put in our bodies.
3. How do you and The Honey Pot give back?
I personally give back by mentoring women that are starting new companies. The Honey Pot Company gives back by sponsoring 10 young girls per month affiliated with Afri-Pads in Uganda, Kenya and Malawi. They learn how to make reusable pads and are also taught about feminine health and hygiene. We plan to expand our humanitarian efforts as our company continues to grow.
4. What are you feeling passionate and positive about today?
I am feeling passionate about my company and its growth not only for the benefit and profit of the company but also for the benefit of my employees. It's very important to me that The Honey Pot Company can provide them employment that can allow them to have a good life. It means so much to me that I pay my team what they are worth. I am very passionate about that and strive to do better and better month over month.
5. If you could make one sweeping change right now to improve the world, what would it be?
It would be to improve the way the world sees women. Women are the essence of life we bring life onto the world, we feed humans with our breasts. Women really run the world. I would change how we are disrespected in music and how we are only seen and not heard in certain cultures. I would change how the world treats us as consumers, selling us toxic feminine care and personal care products. I would change how we are objectified by the corporate world and paid less for our skills and services. In my perfect world people would just be respected for just being human and not whether or not we are men or women.
6. What advice do you have for women who want to start their own company?
Be a beast! Believe in yourself! Create a product or service that works! Test it out and see if it works on more than just you, your family and friends. Ask questions! Find a mentor! Keep working a job until that product or service can fully support you and lastly don't quit until you are pulling you hair out trying to find time for both.