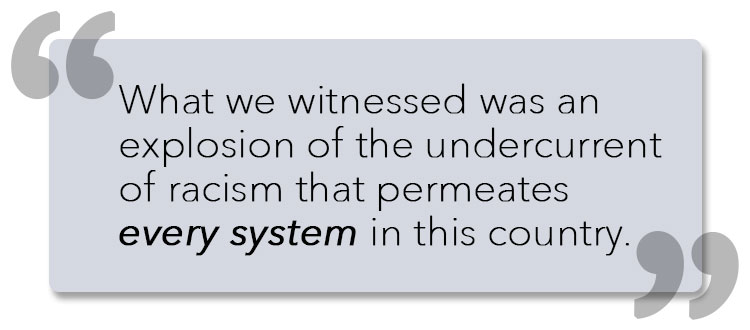 Lesson from Charlottesville: We (white people) have work to do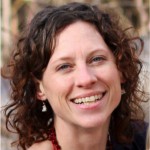 Erin Switalski
Executive Director
Today I'm writing from a very personal place. I'm saddened and horrified by the events that took place in Charlottesville this past weekend. An army – yes, heavily armed—white men (and some women), many young, charged through the streets carrying torches, terrorizing people of color. The fact they were tiki torches, seemingly plucked from their poolside cabanas, would be funny were it not for the hate writhing from their faces and the guns slung across their chests.
What we witnessed was an explosion of the undercurrent of racism that permeates every system in this country. Our country. We have allowed that current to go unchecked for far too long. Now, emboldened by a President who refuses to call it what it is – domestic terrorism fueled by white supremacy – they are speaking up. These terrorists are not foreigners trying to take refuge from other countries – they live here. They must be denounced for what they are.
But that is just the beginning. We have gotten to this place because those of us with white privilege have not done enough to end racism in this country. When it comes to our work at Women's Voices for the Earth, it is the reason why black women are more harmed by toxic chemicals. It is the reason black children have higher rates of asthma. It is the reason that across the United States, black infants die at a rate that's more than twice as high as that of white infants.
Women's Voices for the Earth denounces white supremacy, and is committed to dismantling it.
The very wise Monica Simpson, Executive Director of the Sister Song Reproductive Justice Collective, shared some ways to start in a statement yesterday:
Every white person who was horrified by this weekend's events, need to examine their own internalized racism, the assumptions you make, and the beliefs you have and do your own work. And don't just get yourself in line talk to the people around you. Have real conversations. Get uncomfortable and get real about what is happening in your local school, in your neighborhoods, and in your community to fuel the sometimes subtle, but incredibly harmful ways that white supremacy plays out all around us.

You have to do more than post on social media or attend a protest. Get into your community and look at how you can dismantle the policies and systems that perpetuate the inequity experienced by Black men and women.

If you don't want this to be the kind of country that you live in, then do something about it. Black men and women can't do it alone and it is our health, our rights and our lives at risk. We need you to do more than care. Transformative change requires more than words. It demands action.
Many of you are tapped into efforts to fight oppression – for that, I thank you. Keep it up. Let's double down. If you aren't yet, now is the time. Here is one place you could start, to learn how you can fight in your own life:  https://www.safetypinbox.com/.
My heart goes out to the family of Heather Heyer, who lost her life standing up against hate, and to everyone who was hurt in the protests. I am simply outraged by the senseless violence.
But it's also important to say that the KKK and the neo-nazis did not win the day in Charlottesville. They cannot think they did. Those who stand for justice and equality stood strong in the face of incredible oppression.
Thank you to everyone who stood on the side of justice in Charlottesville. We are the majority. Together, we will create a country that truly represents liberty and justice for all.