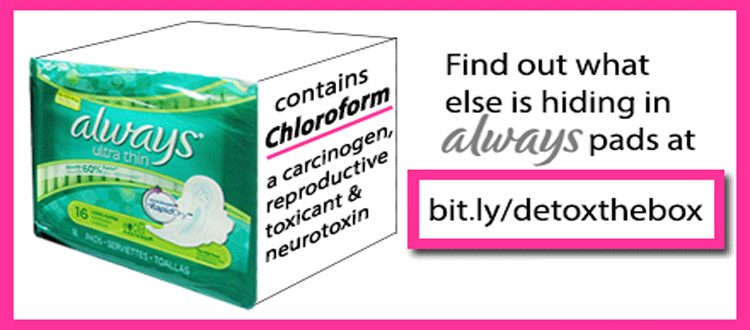 Always Says Not to Worry About a Little Bit of Cancer-Causing Chemical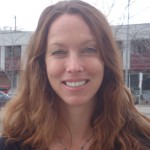 Cassidy Randall
Director of Outreach
& Engagement
If you've been on the internet at all in the last few months, you've seen Always' Like a Girl empowerment ads, with their inspiring message of girls' strength, determination, and smarts.
It's a great message. But wow, is it hypocritical coming from Always.
WVE just released test results that found that Always pads release styrene, a known cancer-causing chemical, and other toxic chemicals listed by state and federal agencies as reproductive and developmental toxins.
None of these chemicals are listed on the label. Because Always doesn't list any ingredients on the label.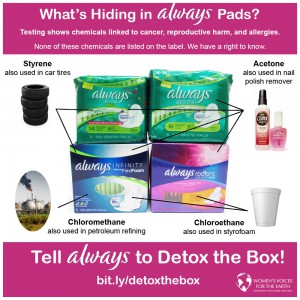 In fact, Always, the brand behind the Like a Girl empowerment ads, withholds ingredient information in its pads, which actually disempowers women by keeping secret the information we need to protect our health.
In response to these test results, and in response to the tens of thousands of women who called, emailed, and signed a petition asking for ingredient disclosure, here's what Procter & Gamble (makers of Always) said:
"The claims aren't relevant."
We beg to differ. Women make up 100% of Always' consumer base, which makes our concerns about unlisted cancer-causing chemicals incredibly relevant.
In fact, their whole response is so ridiculous—it basically added up to, "You don't need to know what's in our pads, and don't worry anyway—it's just a little bit of cancer"—that we're going to share the highlights with you:
"The materials detected in this study are not directly added to our products."
P&G admits to using styrene on its master list of fragrance ingredients.
"These materials [found in the test results] are present in background air at similar amounts."
Our testing included control samples of "background air" and adjusted the detection thresholds accordingly. Only chemicals that were detected at a minimum of ten times the levels in the control samples were reported in our study.
"P&G shares product information with independent experts, including medical consultants, university scientists and the FDA 'so that women can use our feminine hygiene products with confidence.'"
They just don't share ingredient information with the women who actually use their pads. This not only makes it look like they have something to hide (like chemicals linked to cancer and reproductive harm), they're implying that we don't need to know what's in them, we can trust them, and we can go use their products without question "like a good little girl."
"The amounts reported are insignificant."
There's no "insignificant amount" of a cancer-causing chemical. When patients are diagnosed with cancer, the doctor doesn't wave it off and say, "Don't worry, it's just a little bit of cancer."
The bottom line is that exposures to cancer-causing chemicals like styrene add up, and we have a right to know if these chemicals are in products we're using so that we can avoid them to protect our health.
So, Always and P&G, please forgive me if I don't buy your lines about women's empowerment in your Like a Girl ads. I won't buy it until your company responds to all the women who've asked you to list ingredients. I won't buy it until you take our concerns seriously, and neither will the tens of thousands of women who've spoken up with me.
And frankly, you can't afford not to take us seriously. We keep you in business. Please list all ingredients and remove toxic chemicals.
We teamed up with Andrea Donsky at Naturally Savvy to deliver 21,000+ signatures and emails to P&G–join us!