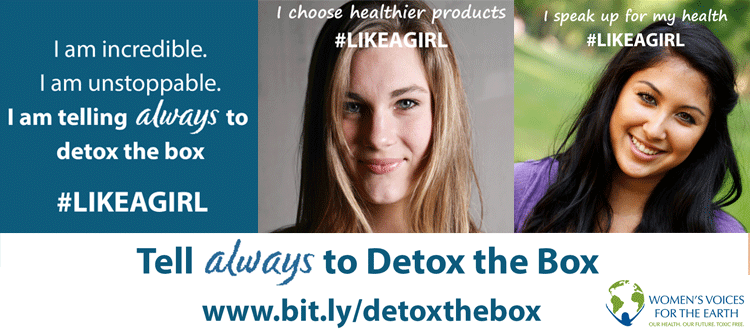 5 Ways to Detox the Box Like a Girl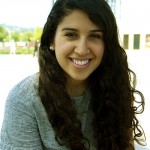 Ashley UgarteTeens Turning Green
Ashley is a Senior at Rice University and the Student Advisory Board President for Teens Turning Green. Teens Turning Green is a Detox the Box Advisory Committee member.
By now, you've probably seen it. Whether it played at the beginning of a YouTube video or your buddy at your work or summer internship showed it to you, the Always "Like A Girl" campaign ad has been unavoidable. I remember the first time I saw it. While I typically opt to skip the ads on YouTube, something urged me to let it play.
As I sat there to watch the commercial, which grew increasingly influential by the second, I couldn't help but feel motivated, moved and empowered by its message. "Who's behind this brilliant ad?" I thought to myself, where girls of all ages and backgrounds were standing together to shut down feminine stereotypes, rethinking and reinventing what it meant to be and do anything, like a girl.
Sitting next to me, and just as emotional, was my friend Jenna, a fellow Teens Turning Green (TTG) intern and leader.
So we sat there, oohing and awing at the adorable – and bold – young girls, blissfully unaware of what was to come next. Then it happened. I remember Jenna's voice yelling, "NO!" when the words finally appeared onscreen halfway through the video:
"A girl's confidence plummets during puberty… Always wants to change that."
Silence, confusion, disappointment and rage filled the room. We were livid. Through our work with TTG, a youth led non-profit devoted to environmentally sustainable and socially responsible solutions for individuals, schools, and communities, we've become well versed in the shocking realities behind conventional feminine care products and the companies behind them.
While I was initially speechless, Jenna's response captured our reactions perfectly: "This is betrayal," she began, "It kills me to think that I participate in a society that so consistently weakens women's self esteem, especially during puberty, when we are at our most vulnerable and insecure. But what kills me the most is seeing that this incredibly powerful video is directing women towards a brand and product that's putting our health at risk – the ultimate betrayal. I run like a girl, I throw like a girl and I deserve to know what I'm putting in my body, like every girl!"
When it comes down to it, young women of all ages and backgrounds are facing a serious problem – we are not being told the whole story, or the truth. Always claims that they're on a mission to rewrite the rules, but in order to do this successfully – and ethically – they must first rewrite the ingredients. In this case, we must stand together as women united globally, to demand transparency and our right to health.
5 Simple Ways to Detox the Box Like a Girl:
Do your research
Last November, Women's Voices for the Earth (WVE) released the Chem Fatale report, disclosing the truth behind feminine care products and the potential health hazards associated with them. From pads to tampons, to menstrual wipes and washes, they found that conventional brands (the kinds you and I have been using since puberty) are laden with harmful chemicals – including carcinogens and hormone disruptors. To learn more, check out their report and check out the full list of toxic chemicals in feminine care products.
Detox your medicine cabinet
Go into your bathroom and compare your feminine care brands with the ones listed in WVE's Hall of Shame. While it may be hard to throw out boxes and bottles of these products, especially if they're brand new, make your health your number one priority. You'll thank yourself later by opting out of the "human experiment" and investing in your health today.
Seek out healthy alternatives
Ethical companies dedicated to the wellbeing of people and our planet have already proven their product's efficacy, without the need for toxic chemicals. For example, Natracare's high quality, organic and natural feminine hygiene products are made from certified organic, 100% cotton, chlorine-free and plastic-free biodegradable materials. If you don't have access to a Whole Foods or a green grocer, urge your local markets to begin stocking healthier products on their shelves. You can even order them online for affordable prices! Check out this resource for a list of ethical brands to source.
Make your voice heard
Women's Voices for the Earth has launched a campaign to Tell Always and Tampax to #DetoxtheBox. After watching their hilarious music video spoof, join the movement by the signing the petition at the bottom. But don't stop there! Write on the Facebook walls of Always and Tampax, tweet at them, do whatever it takes to make your voice heard. Don't forget to use the hashtags: #LikeAGirl and #DetoxTheBox!
Spread the word
Share your newfound knowledge with the world. Start with your family and friends – whether it's your mother, your sister, your aunt, your cousin, your best friend, your boss or even your chemistry professor – women of all ages, backgrounds, majors and careers, have the right to know what's in their feminine care products. Go on Facebook, host a dinner party – choose a platform you're most comfortable with – and share articles, resources and wisdom to your fellow female friends and loved ones.
So do something, TODAY. At Teens Turning Green and Women's Voices for the Earth, we believe firmly in the power of one – the influence of an individual voice – to shift the paradigm towards collective action and global change. Together, WE can help make Like A Girl mean amazing things.