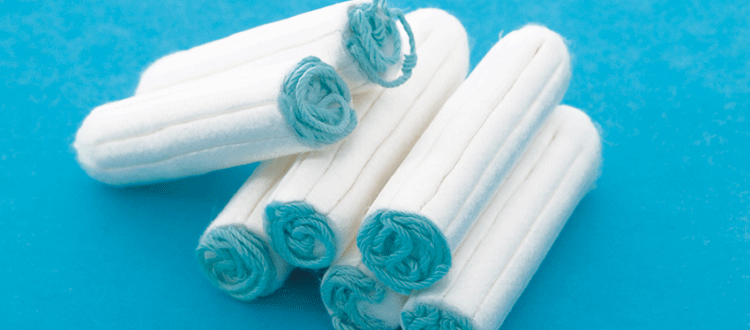 How To Tell Your Daughter About Safe Tampons
This blog originally appeared on Choose Wiser.
I remember the first time it happened to me. Vividly.
I was in seventh grade Pre-algebra. My leg was tucked up under me when the bell rang. I scooped up my notebook covered in unicorn stickers and math book wrapped in doodled brown paper.  And there it was. The Nike swoop on my white leather shoe was covered dark red blood.
Periods. They can be so embarrassing. So awkward.
But not anymore. As a matter of fact, I am embracing our beautiful menstrual cycles with a very loud and public our-bodies-are-beautiful-woman-power-maternal-love stance. (Is that just the weirdest sentence you've read today?) Let me share WHY I am so darn pumped up about our monthly cycle.
It all started about a month ago with a little visit….
Seventh Generation invited me to be their first featured video blogger. To share Kristi-style messages to their 800,000 Everyday-Me subscribers around the world. Just the thought of being able to connect, join arms with, and love ALL those women—caring, curious, and wanting to do the right thing—was enough to get my blood pumping.  We agreed that my role would not be to review or endorse products, but to educate and share the love forward on how to choose wiser. No strings attached.
The first topic they asked me to deliver?
Feminine care products.  Seriously.  A topic so hush-hush that companies have developed tampon wrappers that don't crinkle, because heaven forbid you have to open one in a ladies' restroom when other women might be present. Despite the unrest that some of my non-female family members under 21 felt about the extremely public position I was about to take, I decided to ROCK it Kristi style and bring it on.
Here it is! For my dear followers to see first, debuting worldwide on the 7GenBlog and what you need to know on how to buy a better-for-us tampon.
But this isn't just about you. Period.
The reality is, I don't actually get my period anymore. (Dang, we are getting intimate aren't we?) As I explained in Little Changes, in order to keep my body cancer-free, the doctor's performed an oophorectomy—removing my ovaries and starving potential cancer cells by reducing estrogen production. With the tying of neat little sutures, menopause was over before it even started for me.
" Maybe Mother Life felt apologetic. Maybe this was the frosting on my Devil's Chocolate Cancer Cake.  Menopause was one life experience I would have to live without."
It did cross my mind that I was writing about a process I no longer had to deal with (which certainly makes it easy to celebrate!), but then it hit me—my daughter will be entering this world very soon.  And having safer products to start her off right, along with every other daughter out there in the world, was worth proudly and publicly shouting to the world.
What we need to do:
1. Learn what to look for in safe tampons. (Back to that cute announcement link above.)
2. Then, check out Women's Voices for the Earth edgy spoof video "Detox the Box" as they roll out a campaign to make feminine care products safe for all.
3. Share with your friend or with your teenage daughter. This is one of the easiest, little changes you can make to choose wiser, then check off the list—but ONLY if your lady friends are informed. Share this blog with a "hey, follow Kristi," or share the Seventh Gen Blog itself. 
Where to buy safer products?
It's exciting to discover safer products AND find that they are accessible and affordable.  A Choose Wiser grand slam! The next time you are running errands, take a look around and have a little non-toxic feminine care products scavenger hunt. Here is where I can find them so far: Walgreens, Hannaford, CVS, natural food stores, etc.  Of course Seventh Generation offers their products online, and I always love the deep discounts at Vitacost. In the meantime, I am on a personal mission to bring safer options to Target as well.
#GIRLTALK
Okay. Now your turn.
Have you used – or heard – of alternatives to tampons such as menstrual cups, or reusable pads? Share with us, those who were raised in the disposable world, your thoughts. Your girlfriend advice is invaluable.
Have you talked with your teen(s)? How did that go? What did she say? What is happening out there in the world of teen girls? (Okay, selfishly, maybe this one is more for me, but please do tell… I am sure others would benefit too!)
Before I go, I want to assure you that I will continue to send you messages through Choose Wiser, but for a select amount of time, Seventh Generation will carry exclusive messages on their blog as well.
The more women we can reach, the more women who will be in the know.
This creates a more powerful demand for safer products, requiring businesses to provide options.
More options in the market means more affordable, accessible, safer products for all of us.
At least that's my plan!  So, if you like what I am doing at Seventh Gen, let them know with a comment on their page and a share so I can do more for all!