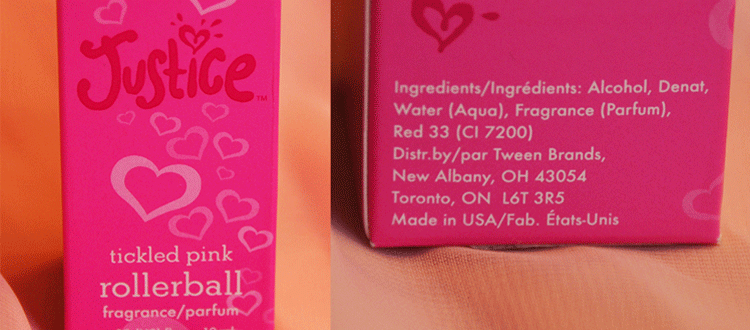 Girls Perfume: Companies' Vague Safety Assurances
My two young daughters understand why I won't let them use the perfume that was marketed to them at the counters in Children's Place and Justice stores. When they asked about the bottles I was photographing at home, I explained that I discovered some ingredients inside might not be good for them; since we just don't know for sure, we won't take that risk. Besides, they have better things to do, like play sports, do math, and play dress-up with their dolls.  At their ages, they wouldn't have thought to ask for perfume if not for seeing it at eye level in those children's clothing stores.
As I mentioned in the initial article I wrote for Women's Voices for the Earth, I emailed the CEOs of both major stores about my concerns. Here are the responses from their headquarters: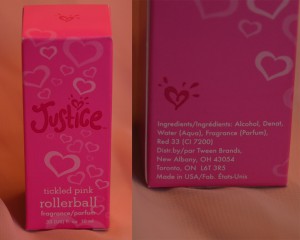 Justice
Dear Ms. Brock,
Thank you for contacting Justice.
Justice requires its vendors to comply with all applicable laws and regulations regarding safe cosmetic products and children's products, including the CPSIA and other laws and regulations enforced by the U.S. Consumer Products Safety Commission. We have no reason to believe that there are harmful ingredients in the products you identified.
We appreciate you taking the time to share your feedback.
Best regards,
Tracey Voorhis
coordinator · customer and field relations
Dear Anne Brock,
Thank you for contacting The Children's Place.
The safety of our customers is of utmost importance to The Children's Place. We regularly test our products through independent laboratories, implement quality control measures, and continuously evaluate and update our own internal set of standards to ensure compliance with applicable safety requirements.  Cosmetic products (including fragrances) must meet a variety of strict safety standards and we require our suppliers to commission a Toxicological Risk Assessment (or TRA) on all cosmetic products.  In a TRA, a certified toxicologist evaluates all product ingredients for safety.   However, cosmetic products are safe for use only as directed and intended, and are not meant to be ingested.  Please consult your physician immediately if accidental ingestion occurs.
If we can be of further assistance, please contact Customer Service at 1-877-752-2387, or visit www.childrensplace.com to view our Frequently Asked Questions.
Sincerely,
Wanda*
Resolution Specialist
Just like the store-level and phone-level customer service representatives I encountered, these company representatives gave very cordial responses. The CPSIA is the Consumer Product Safety Improvement Act, which does address phthalates in children's toys, but not specifically in cosmetics.
If either company has ensured it is not using phthalates in its formulations, that would be a helpful piece of information to see clarified on the box.
It may be the case that both companies are strictly following the letter of the law as it stands now. That points to the real problem for consumers like you and me, and 5-year-old girls shopping at these stores with their grandparents. The minimal amount of safety testing and guidelines that must be followed in this country doesn't address the hazards of long-term, low-level exposures to toxic chemicals. For example, cosmetics in the United States are allowed to contain more than a thousand chemicals already banned in European cosmetics.
We need policy reform so neither consumers nor retailers have to guess about the safety of cosmetics in the marketplace. We especially don't need to guess about the safety of products marketed to children.  Perhaps 5-year-olds don't need to be the target demographic for perfume sellers, either. What do you think?