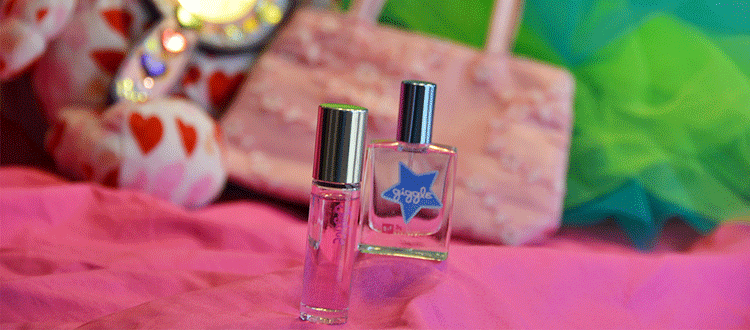 Perfume: Not Child's Play
Bubblegum pink boxes decorated with hearts, shiny blue boxes with stars, fun phrases like "tickled pink" and "giggle" all make perfumes marketed toward children look more like toys than cosmetics.  They fit right in with the stores catering to children ranging from very young to tween ages.  One of the stores even carries a selection of pop culture magazines to round out the mall's youth-centered picture painted in bright colors and sparkling sequins.
I was curious what made these fragrances special for kids since they're offered for sale, right at child-eye level, at the counters of both Justice and The Children's Place. The polite and efficient clerks couldn't offer me an answer when I inquired at either store.  But they were all quick to reassure me that if their store was selling the product, it must be okay for my kids.
"They wouldn't sell them if they weren't safe for kids, right?" I asked, as they nodded in agreement.
"Yeah," reassured the clerk at Children's Place.  At Justice, I asked what makes their perfume different than adult fragrances.  "It's softer," a clerk explained.
After making my purchases and reading the ingredient labels, I still couldn't tell exactly what was in these children's products, so I called Justice's customer service department.
When I asked what "fragrance" meant on the box of "Tickled Pink," the friendly woman who took my call explained that fragrance can be a combination of essential oils and "synthetic aroma compound" although she was not allowed to reveal to me what was in the compound.  When I asked further about specific essential oils, she said she couldn't answer that, but she did say that "the essential oils are diluted with propylene glycol."  Propylene glycol is a skin, eye and lung irritant per the Environmental Working Group's Skin Deep Cosmetics Database, yet it is not listed on the product box.
I told the woman I was interested in making sure the perfumes would be safe for young girls to use and asked if they're tested for safety.  She reassured me, saying: "All these perfumes before they go into the market, they are tested to be sure that they are safe."
Who tests them, I asked?  "Absolutely, it's the American government…they always test it," she explained.
Next I spoke with a polite customer service rep from Children's Place who apologized for not having any information for me and directed me back to the store where I'd purchased the fragrance.  The store then made an effort, having no in-store information, to connect me with another customer service number.
Per the EWG Skin Deep Cosmetics database, one ingredient in Children's Place Giggle fragrance is ethylhexyl methoxycinnamate, also called octinoxate. It is a hormone disrupting chemical of high concern, backed up by strong evidence from the European Commission on Endocrine Disruption.  This substance is also considered by scientists to be persistent (doesn't break down in the environment) and bioaccumulative (builds up in our bodies).
Another ingredient in the Giggle fragrance, amyl cinnamal, also known as amylcinnamaldehyde, has been associated with allergies and contact dermatitis, per the EWG database.
To their credit, the Children's Place fragrance does note the product is not intended for children under 4, but apparently because of a potential choking hazard from small bottle parts, not because of the harmful ingredients in the fragrance itself.
I'm a concerned parent. The utter lack of information from customer service and absence of labeling practices by these companies are unacceptable. I emailed a letter of concern to the CEOs of Justice and The Children's Place asking how these synthetic kiddie fragrances fit into their social responsibility missions.  Just as Safer Chemicals, Healthy Family's broader Mind the Store campaign encourages large retailers to be mindful of what they're selling, boutique children's store should also recognize the potential for harming customers based on ingredients in their products.
If the industry won't regulate itself in a meaningful way, it's up to the government to create better safety standards.  Cosmetics are largely untested and unregulated for safety in the United States. Despite what we'd like to believe, the Food and Drug Administration does not test the ingredients in kiddie perfume or any perfume for long-term safety, despite mounting evidence about the health consequences. The Campaign for Safe Cosmetics says 89% of what goes into our cosmetics has not been safety tested by any public entity.
Young children are especially vulnerable to toxins in consumer products and vulnerable to developing allergies and sensitivities, per Women's Voices for the Earth's Secret Scents report.  The report shows that women seem to experience more problems with fragrance sensitivities than men, and that girls are affected more often than boys.  The report notes that we encounter fragrances in all sorts of everyday products already, from detergents to cosmetics to even children's toys.  According to WVE and other health advocates, undisclosed phthalates used in synthetic fragrances could be causing other health problems like developmental harm in addition to the more obvious sensitivities.  WVE has been calling for ingredient disclosure so consumers can make more informed choices about what goes on or in their bodies.
Even if we shake our heads and say that it's impractical to eliminate all fragrance allergens or potentially harmful ingredients from consumer products, the question remains: "Why expose young children needlessly to kiddie perfume?"  Why encourage them to spray it on their vulnerable, developing bodies when we don't even have complete safety data?  When would be a safe age for a child to start using her own synthetic fragrance concoction?  No one really knows, because maybe there is no safe age.
Sweet, little girl giggly fun with only partially disclosed, untested ingredients that could lead to serious health issues?  This mom's not laughing.