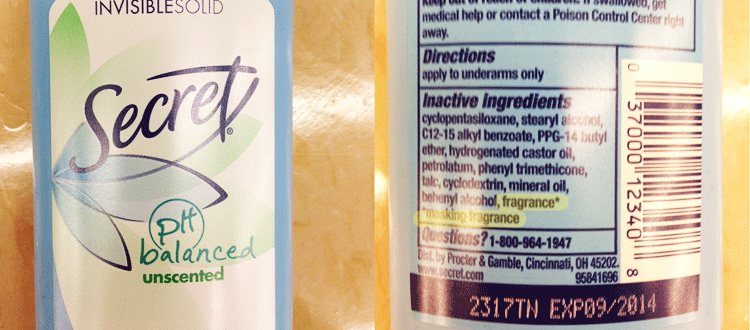 Tip of the Month: No More Stinking Lies!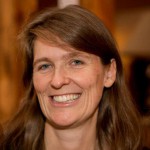 Alex Scranton
Director of Science
and Research
Are you sitting down? Because this one's a doozy.
Did you know that "unscented" doesn't necessarily mean the product is fragrance-free? It could mean that there are still fragrance chemicals in there to mask the scent of the other ingredients! That's right– there are actually products that are labeled "unscented" on the front, but the ingredient list on the back  includes "fragrance" or other chemicals that are common fragrance ingredients.
Huh?
When we launched our Secret Scents campaign, companies told us that they don't need to disclose fragrance ingredients because people who are sensitive to fragrance can just buy unscented products to avoid having reactions.
Turns out that's a lousy option, because lots of companies are misleading their own customers! We've found a few well-known products (listed below) that are both labeled "unscented" and contain "fragrance" as a listed ingredient – and when our health is in question, this is completely unacceptable.
Want to help us find more brands to call out on this deceptive labeling practice? Join us to create our No More Stinking Lies Hall of Shame: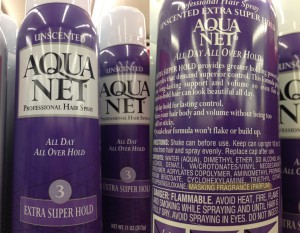 1. At home? Check your bathroom cabinet or shower for personal care products labeled "unscented." Does it contain "fragrance" as one of the ingredients? Unscented deodorants, antiperspirants and hair sprays seem to be the products that most often have fragrance listed – so check those first!
2. Take a photo of the front label with the word "unscented" and one of the list of ingredients on the back. If you have one of the products listed below – send us a pic of that too!
3. At the store? Find your favorite "unscented" product and take a photo of the front label and of the label with the ingredients.
4. Post your photos of unscented products with fragrance to Women's Voices for the Earth's Facebook page with the product name, and we'll add it to our No More Stinking Lies Hall of Shame album on Facebook.
Not on Facebook? Send your photo to us at womensvoices@womensvoices.org, and we'll add it for you!
Unscented products that contain "fragrance" as a listed ingredient
Hair Sprays
Final Net Unscented All Day Hold Hairspray Extra Hold
Aqua Net Professional Hair Spray Unscented 3-Extra Super Hold
Aqua Net Professional Hair Spray Super Hold 2 Unscented
Salon Grafix Unscented Super Hold Shaping Hair Spray 8
Salon Grafix Non-Aerosol Shaping & Volumizing Hair Spray Unscented
Salon Grafix Non-Aerosol Freezing Hair Spray Styling Mist Unscented
Vitalis Maximum Hold Hairspray for Men, Pump, Unscented
Condition 3-in-1 Unscented Hairspray Maximum Hold
Consort For Men Hair Spray Non-Aerosol Extra Hold Unscented
Consort For Men Hair Spray, Extra Hold, Unscented
Finesse Extra Hold Hairspray Unscented
Finesse Touchables Hair Spray Aerosol Unscented Extra Hold
Suave Hairspray Non-Aerosol Max Hold Unscented
Suave Hairspray Aerosol Extreme Hold Unscented
Suave Max Hold Hairspray Unscented
Suave Rave 4X Mega Hairspray Unscented
Rave Hairspray 4x Mega Aerosol Unscented
CVS Hairspray for Men Unscented Extra Hold
L'Oreal Elnett Satin Hairspray Unscented Extra Strong Hold
Vo5 Hair Spray Aerosol Unscented Hard-To-Hold 14 Hour Hold
White Rain Classics Hair Spray Non-Aerosol Extra Hold Unscented
Body Wash
Dove Sensitive Skin Nourishing Body Wash Unscented
Walgreens Sensitive Skin Body Wash, unscented
Salon Selectives Spa Body Wash, Unscented Moisturizing ,Sensitive Skin
CVS Sensitive Skin Body Wash, unscented formula
Deodorant/Anti-perspirant
Dry Idea  Anti-Perspirant & Deodorant Roll on Unscented
Dry Idea Advanced Dry 24 Hr. Antiperspirant & Deodorant Roll-On Unscented
Dove Antiperspirant & Deodorant Invisible Solid, Unscented for Sensitive Skin
Mitchum Smart Solid Anti-Perspirant & Deodorant, Clinical Performance Stick, Unscented
Sure Anti-Perspirant & Deodorant Invisible Solid Unscented
Secret Antiperspirant/Deodorant, Invisible Solid, Unscented
Secret Outlast Antiperspirant/Deodorant Invisible Solid Unscented
Right Guard Sport 3-D Odor Defense Antiperspirant & Deodorant Aerosol Unscented
Speed Stick Power Antiperspirant Deodorant, Unscented
Insect Repellent
Off! Family Care Insect Repellent IV Spray Unscented