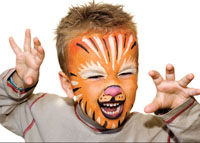 Avoiding Toxic Face Paint
Halloween is coming up, and monsters and aliens aren't the only scary things out and about this time of year. Did you know that many children's face paints can contain toxic heavy metals like lead, cadmium, and more? Because contaminants like heavy metals aren't required to be listed on labels, parents often have no way of knowing which face paints are safe.
So how are you supposed to avoid heavy metals in face paint if you don't even know they're there? Try WVE's suggestions:
Use costumes that don't require face paint.
Make your own! Visit the Smart Mama for some easy, fun recipes.